The Alberta Pork Pig Science Centre opened on September 30, 2003 and is the industry's official interpretive centre. The Pig Science Centre is a place where the community and students can come to visit and learn about pigs in modern agriculture. Two sets of viewing windows are built in the centre to let you see the pigs in the barns, while also showcasing the management system.
The dynamic and interactive displays make the centre a fun and engaging place for children to learn about topics such as biosecurity and manure management. The centre focuses on Alberta Education curriculum topics, such as agricultural awareness, animal welfare, life cycles, environmental sustainability and food safety.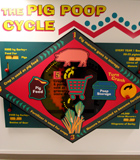 Tours
The Pig Science Centre is open to the general public, community members and schools at no cost. A tour through the center will take you 45 minutes to complete and for school groups the centre offers the opportunity to use curriculum based passports as an interactive learning tool. Use of passports will extend the tour to 1.5 hours.
Contact
For more information on the Pig Science Centre please go to our website at www.albertapork.com or to book a tour contact Alberta Pork at 780-474-8288 or toll-free at 1-877-247-7675 (PORK).